Michal Zátopek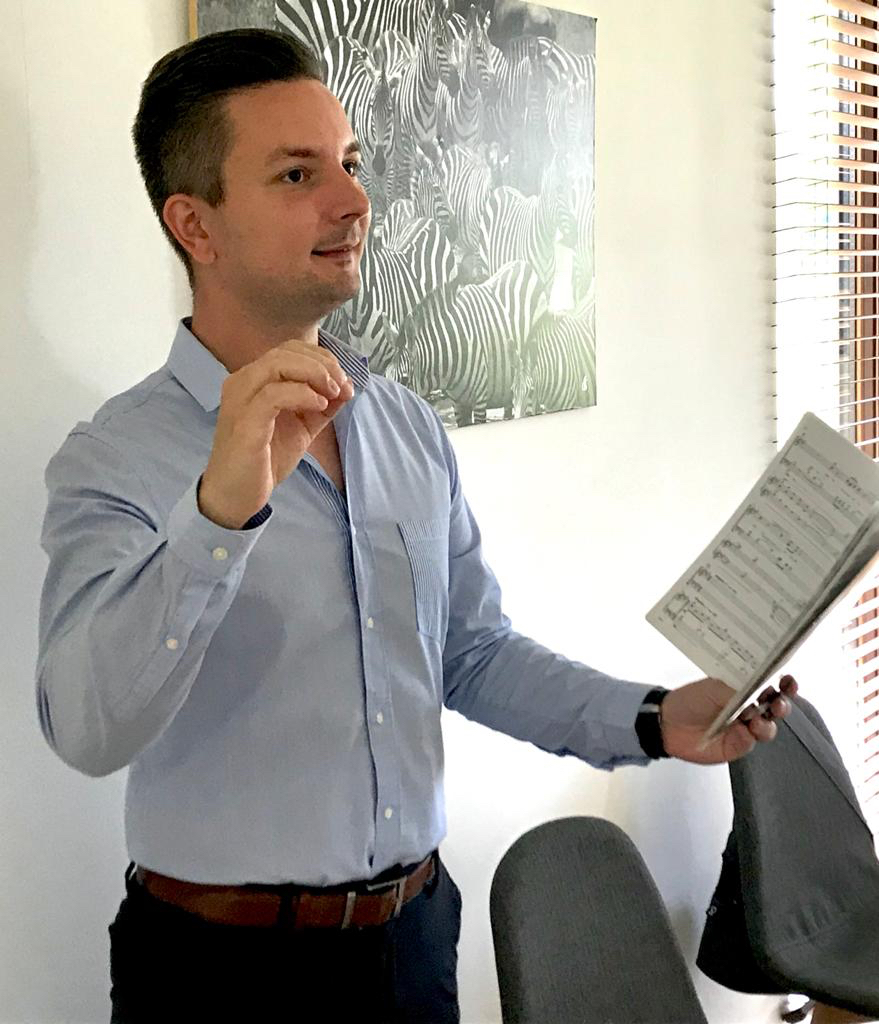 Michal Zátopek (1985), current conductor,
graduated from Janacek Conservatory in Ostrava (Field of study: piano and conducting) and the Ostrava University - Faculty of Arts (field of study: piano).
Michal has participated in many piano competitions of the course of his studies, such as The International Piano Competition of Bedřich Smetana in Plzeň, The National competition of Academies in Pardubice and the internal Janacek Academy competitions. He has also taken part in many piano seminars under the leadership of prof. Ivan Klánský, prof. Jiří Hlinka, prof. Eugen Indic and others. He has presented his piano skills at many festivals and concerts both in and outside of Czechia, i.e. Poland, Slovakia, Germany and Turkey. As a solo pianist he performed with Ostrava philharmonic and the "Třinec Chamber Orchestra". Michal has been regularly cooperating with one of the Czechia's leading sopranos Marta Reichelová or pianist Veronika Zátopek. He's also often asked to be a judge at various piano or singing competitions.
Michal's cooperation with PSM as an accompanist began in 2003 when he was only eighteen years old. Two years later, in 2005, he took over all conductor duties. In 2006, shortly after he started, PSM produced their first ever CD, recorded in "Český rozhlas Ostrava". He's challenging the Choir by presenting increasingly difficult repertoire, both from the works of old masters and contemporary composers. Michal is also trying to aim PSM's activities towards strengthening regional traditions and culture. However it's not just his talents that lead the Choir higher and higher artistically. It's also a lot of preparation, sacrifice of free time and above all a love for music. Because of all that and also thanks to the collaboration with other talented musicians (i.e. Marta Reichelová, Irena Szurmanová and others) Michal has elevated PSM's performance to a whole new level.
In 2009 during the "Praga Cantat" choir competition, Michal was awarded for his performance as a youngest conductor. In 2015 he received an award from The Czech Union of Choirs for his contributions in Czech choir art both in Czechia and abroad. In 2016, at the festival "Pražské Vánoce", not only the Choir was honored by being placed into golden level category, Michal also received a personal award for dramaturgy of the Choir's performance. In 2019, PSM participated under Michal's leadership in "The Singing World" festival in St. Petersburg, Russia. The Choir was awarded third place in Folklore Music and Mixed choir categories and our young pianist Pavel Duda has been personally honored by an award for the best piano accompaniment. In 2020, Michal was honored once again by Czech Union of Choirs for his contribution in choir art.